AirGraver Feedback
Phil Coggan Review Andy Shinosky Review Adone Pozzobon Review Delivery & Service Review
Page [1] [2] [3] [4] [5] [6] [7] [8] [9] [10] [11] [12] [13] [14] [15]
[16] -17- [18] [19] [20] [21] [22] [23] [24] [25] [26] [27] [28] [29]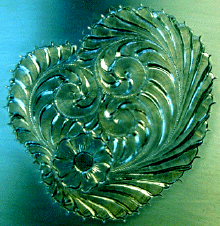 I just received my new "PalmControl" handle attached to my Lindsay "Classic" engraver. As always, in purchasing a fine piece of equipment from Steve Lindsay, it was all set to engrave. I spent about fifteen minutes installing the control and I was engraving.

It is hard to describe the feeling of hand engraving like I was taught in college many years ago without power. With power gravers, we always want to push the graver though the metal even though we are told to let the tool do the pushing. The "PalmControl" is different in this respect, in that you push the graver though the cut and it helps you with power. It uses the hand pressure we have been using all along to hold a graver in the cut with the foot pedal models. No pedal to take your mind off the cut. You have complete control over the speed you would like to engrave at and the amount of depth of cut you desire. I have found that my bright cuts are smoother and I really believe that I am engraving faster.

I work in Western engraving. The wriggle engraving cut is easy to do and liners slide though to create a beautiful pattern. Click above image to enlarge

This is a remarkable piece of equipment, but of course it comes from Steve, and you would expect nothing but the best. Thanks Steve, Take care, Jack Gohn, Lee-Joyce Designs, Billings, Montana
| | |
| --- | --- |
| Steve, this engraving has been completely done with your Chasing AirGraver. I've always liked painting and drawing women in a quiet and calmed attitude, and this engraving is a sample of my work as an artist, as well. I didn't use any transferring method, just drawing on the metal, copying the main idea from one of J.W.Waterhouse's paintings. I have preference for banknote style, certainly, but I have used some bulino here, as well. Your Airgraver is great for avoiding slips and for the finest lines. Jordi Solé, Spain | |
Hi..Steve. What can l say !! Your airgravers are absolutely fantastic !! even better than when l tried them in Reno. They are great to hold an absolute joy to use. l sometimes find myself just looking at them in my hand almost spellbound, and then smiling to myself that I've actually got them in front of me and using them on a piece of work, l did my first bit of gold inlay yesterday with the 'classic' the power and flexibility from it, to hammer in the gold was just great, when l think l had to use two tools before, what a time saver? Your airgravers are now the only one's for me Steve !! Everything else has just been made redundant. You are to be congratulated and applauded on the quality of manufacture, design and shear beauty of these tool !!
Best regards Shaun Banks, United Kingdom
Hi Steve, I love this tool so much and it is soooo trouble free that I haven't looked at your web site for two years or more. As a life long steel die and copper plate engraver, I shutter to think of how easy my working life would have been if only we had had your tool. Now, handicapped by a stroke which left my right side partially paralyzed engraving was impossible until I found your tool. words can not express my appreciation.
Anyone using traditional methods hasn't any idea just how wonderful and helpful your invention really is. I feel it brings the age old tradition of decorating metal with art into the space age with the most advanced system since the hammer and burin.
Don Hill, Springfield, Missouri
Steve, The three of us at Smyth Jewelers now have five AirGravers between us and we use them for absolutely everything. The other day I figured that I've used the Classic about 6500 hours in the two years I've owned it and it still runs as good as the day I took it out of the pouch. The AirGravers give us maximum control engraving inside rings and on curved surfaces. And since we've been using them we have cut down to almost zero the amount of time spent repairing items due to slips.
We are considering adding an AirGraver with the PalmControl handle to the shop for the bench jewelers to use since it can be used by more than one jeweler to use when bright cutting during setting. The PalmControl is a natural for setters who put a lot of pressure into the handle for bright cutting. And no foot pedal to move, just hand the Lindsay back and forth between the benches. This is perfect for shops with jewelers who sit side by side at separate benches.
Allan Binder, Smyth Jewelers, Timonium Maryland engraver@REMOVEcomcast.net
Smyth Jewelers is the country's largest single jewelry store by size, second by sales volume, and have three in-house hand engravers plus two more that work pretty much exclusively.
Page [1] [2] [3] [4] [5] [6] [7] [8] [9] [10] [11] [12] [13] [14] [15]
[16] -17- [18] [19] [20] [21] [22] [23] [24] [25] [26] [27] [28] [29]