The Goliath Engraving Vise is a medium profile block, providing transition benefits between a high profile and a low profile block.

Benefits to a medium profile vise
**Can be tilted over farther than a low profile.
**When viewing under a microscope, a medium profile designed vise allows one to tilt the block without the viewing location moving as far away as it does with a high profile.
**Lower center of gravity provides stability so that the vise does not tend to fall over as easily as a high profile vise when titled.

Goliath Vise Features
**6" Diameter.
**2.5" high vise jaws with pin plate (1.75 without)
**Adjustable friction drag
**Precision machined and precision fit jaws
**High quality surface finishes
**Machined sphere mating base
**Includes pin plates, base and wrench.
**Three holes in jaws accept pin vise or custom fixtures
**Height from base to top of jaws 6"
**Jaw width 3"
**Maximum jaw opening 3.50"
**Weight 30 lbs.

Goliath Engraving Vise with Leather ring fixture
$665




---
The Low Profile DoveTail engraving vise is a block with a unique design. Its unique dovetail and jaw assembly set it apart.

Benefits to a low profile vise
**When viewing under a microscope the Low Profile designed vise allows one to tilt the block without the viewing
location moving away. It will stay centered, similar to the large Glide-Lock vise.
**Lower center of gravity provides stability so that the vise does not tend to fall over as a high profile vise may when titled.

DoveTail Low Profile Vise Features
**Combine quality, weight, and close tolerance machining.
**Mating surfaces are heat treated and precision ground.
**Precision tapered roller bearing.
**Jaws remove easily for cleaning and to accommodate accessories.
**Turcite bearing material is used on the jaws for demanding wear requirements.
**Adjustable friction drag.
**Three holes in jaws accept pin vise or custom fixtures.
**Includes pin plates, base and wrench.
**Precision ground and polished dovetail jaws provide smooth jaw movement.
**Weight 40 lbs.
**Diameter 8.625"
**Jaw width 3"
**Max jaw opening 3.50"
**Jaw height 1.5" Height from base to top of jaws 5.75"
**Weight 42 lbs.

Low Profile DoveTail Price: $1100 plus shipping.
Discontinued until further notice.


---
PalmControlŽ Vise


PalmControl AirGraver not included.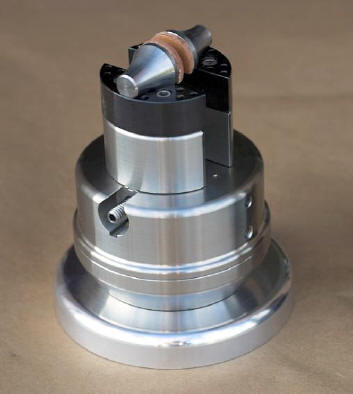 Above: PalmControl vise pictured with a Goliath vise for size comparison.
PalmControl Vise
**4" Diameter
**Has a detent feature of engaging and disengaging jaw screw retainer
**303 stainless steel
**2" high vise jaws (with pin plate)
**Adjustable friction drag
**Precision machined and precision fit jaws
**High quality surface finishes
**Machined sphere mating base
**Includes pin plates, base and wrench.
**Threaded holes in jaws accept pin plates or custom fixtures (more information on engraving forum)
**Height from base to top of jaws (without pin plates) 4.5"
**Jaw width 1.75"
**Maximum jaw opening 2.4"
**Weight 10 lbs.
PalmControl Vise: Price $454
Note: April 14, 2014. We are out of stock of these. More should be ready in two to three weeks. You may still order but the vise will not ship until more are ready. Thanks, Steve





PalmControl Vise with Leather ring fixture: Price $490



---
Steve Lindsay
Heavy Duty Turntable


(PalmControl Vise in photo for size comparison.
The vise is not included in price. )

Lindsay Turntable
Specifications:
10" diameter steel turntable
Friction brake
1 1/8" thick
Weight 25 lbs
Price $429



---

Leather Ring Fixture for Vise pin plates

Place these in vise pin plates to hold rings or other items.
Leather Ring Holder Price $56